Samyang Group Hosted Samyang Innovation R&D Fair 2020
2020.11.13
- Event sharing R&D outcomes… held every year to motivate R&D and share knowledge in the group
- Simplified the event due to COVID-19… selected outperforming projects, had presentations, and awarded three projects like previous years
- "COVID-19 presents two challenges: overcoming crisis and achieving future growth… we need to overcome them with R&D"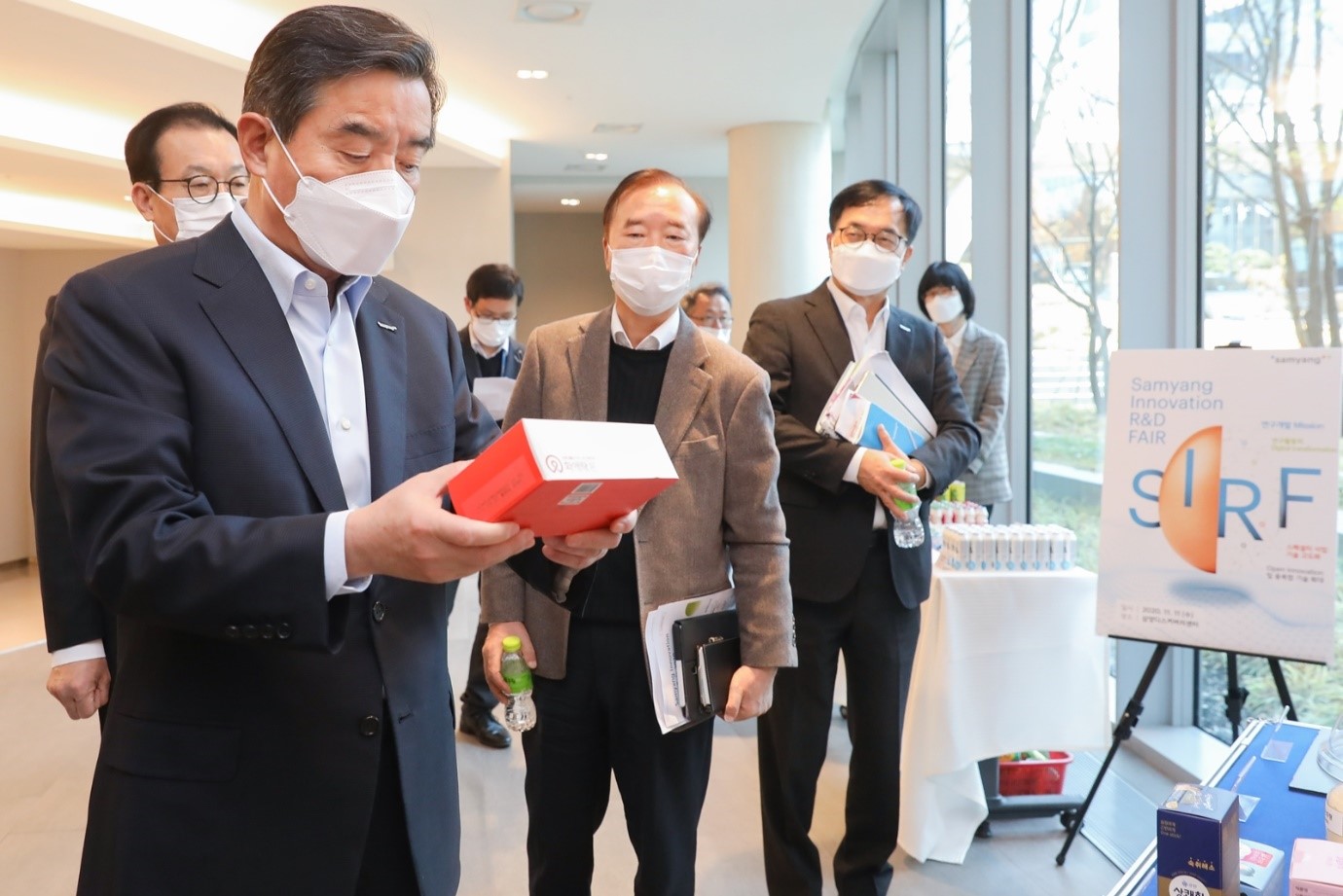 The Samyang Group (Chairman Kim Yoon) is finding a key to overcome crisis and achieve future growth from "specialty" technology. Specialty technology can produce higher value products with better functionality than ordinary products.
The Samyang Group announced on November 11 that the company hosted the Samyang Innovation R&D Fair (SIRF) 2020 on the same day at Samyang Discovery Center, Pangyo.
SIRF is an event that displays and shares R&D outcomes which researchers in the Samyang Group have archived in the year. Samyang Group has hosted this annual event since 2012 to motivate R&D and share knowledge.
This year's SIRF was simplified as it minimized the number of attendees to comply with COVID-19 guidelines, and only 12 major and strategic projects from each research center were displayed. Researchers participated in the event online, communicating and sharing knowledge through comments.
While the event was simplified, selecting outperforming projects and giving presentations proceeded like previous years. At SIRF 2020, the Samyang Group awarded 3 best R&D projects and shared their research outcomes. The Top Excellence Award went to the Smartphone Material Development Project by Chemical Research Center, while the Excellence Awards went to the More Flavorful Butter Processed Fat Development Project by Food Bioresearch Center and the Mid- and Large Touch Panel Overcoat Development Project by Convergent Material Research Center.
Chairman Kim Yoon said in the intra-net, "COVID-19 is deepening uncertainty, accelerating changes, and presenting two challenges: overcoming crisis and achieving future growth." He asked researchers to do three things: advancing specialty technology, expanding open innovation and convergence, and seeking R&D digital transformation.
Meanwhile, specialty technology that has added differentiated competitiveness to existing businesses won awards at this year's SIRF. Based on the specialty technology, the Samyang Group is maximizing performance in its existing businesses while, at the same time, entering new businesses.