Samyang Corporation presents prebiotics material solution
2021.10.22
- Third Samyang Ingredients Academy (SIA) seminar for food business researchers and industry heads
- Application cases of prebiotics material such as indigestible maltodextrin, fructooligosaccharide, and introduction of labeling
- One-stop solution from development to advertising following increased interest in prebiotics materials due to COVID-19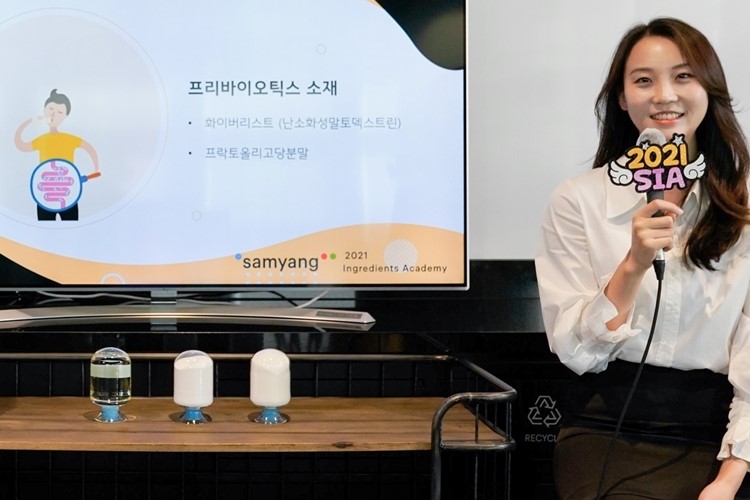 ▲ A photo of the 3rd Samyang Ingredients Academy (2021 SIA); an employee of Samyang Corporation's Food Business Unit is hosting a webinar over a livestream video system at the Pangyo Samyang Discovery Center.
Samyang Corporation is reinforcing its foothold in the recently exploding prebiotics market. Prebiotics refer to food that good bacteria—that is probiotics, including lactobacillus—eat in the gut.
Samyang Group's food business and chemical business subsidiary Samyang Corporation (CEO: Song Ja-ryang) announced on Oct. 19 that it successfully hosted the 3rd Samyang Ingredients Academy (SIA) seminar in the form of a webinar.
SIA is a seminar on food materials participated by food and beverage researchers and industry heads. It started in 2017 as a seminar where clients were invited. Since last year, however, it changed into a webinar format to be held 3 times a year. Such change reflects the strengthened competitive edge that the company is working toward in the food business by introducing specialty products (high value-added) that can respond to changing trends including how such products can be used as a solution.
At this year's SIA, Samyang Corporation introduced fructooligosaccharide, indigestible maltodextrin, and wheat fiber, a new imported product, to the 130 or so participating researchers and industry heads. Samyang Corporation also introduced the prebiotics in production, including cases of application to cereal bars and chocolate. Moreover, it suggested ways of applying functional labels to ordinary food.
The fructooligosaccharide and indigestible maltodextrin are ingredients that can be labeled with their function. Indigestible maltodextrin is a type of water-soluble dietary fiber containing more than 85% fiber. It promotes digestion, regulates bowel movement because it is difficult to absorb, prevents blood sugar from rising after eating, and helps improve neutral lipids in the blood. It is used in beverages, cereal bars, cookies, breads, and fermented dairy products. Fructooligosaccharides are an ingredient in health food products that can help with regulating bowel movement and in the proliferation of good bacteria in the gut. It is as sweet as sugar and can be applied to dairy products and processed chocolate products.
Samyang Corporation introduced "Fiberest," a brand for indigestible maltodextrin, and started a full-scale marketing campaign. Fiberest's name, combining fiber and the superlative "est," is intended to mean the best fiber.
"Due to COVID-19, interest in good health has increased, and the prebiotics and probiotics markets are growing together. Samyang Corporation will be a one-stop shop, from providing the function and the property that the manufacturer desires to labeling solutions for ordinary food, and it will contribute to securing diversity in food business products," an official of Samyang Corporation said.