Samyang Corporation Introduces Its Allulose Brand 'Nexweet' to the Global Market
2022.07.20
- The allulose brand "Nexweet" makes its global debut at IFT FIRST 2022 in Chicago
- Held tasting booth for their beverage, jam and cereal bar made with allulose and prebiotics
- Plans to produce easy-to-export powder products, as well as acquire global strongholds and tech centers to compete with multinational conglomerates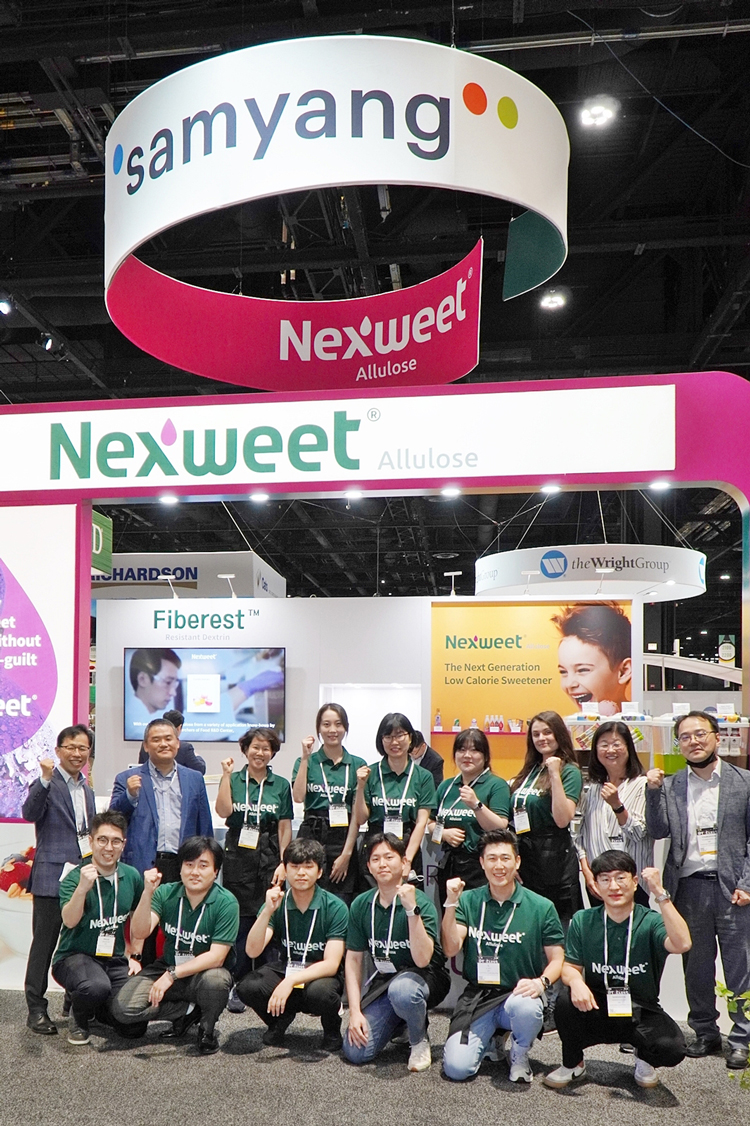 ▲Members of Samyang Corporation in Chicago, USA for the IFT FIRST 2022 (July 11–13, local time) are posing for a commemorative photography. Samyang introduced its allulose brand 'Nexweet' to the global market during this exhibition.
Samyang Corporation launches its brand marketing in the global market, with its specialty (high value) ingredients.
Samyang Corporation (Head: Choi Nag-hyun) announced on July 15 that they introduced their new sugar substitute allulose brand 'Nexweet' at the IFT FIRST 2022 held in Chicago, USA from July 11-13. Allulose is a low-calorie sugar that naturally exists in certain fruits, such as figs and raisins. Because it has the same clean and sweet taste you expect from sugar, yet is nearly calorie-free, it is often called the most optimal next generation sweetener.
Samyang Corporation developed the brand to progressively market their allulose products as a key part of their sugar-reducing ingredients business. The name 'Nextweet' is a compound word, combining 'next' and 'sweet' and signifying 'the sugar that leads the next generation.'
In 2016, Samyang succeeded in mass producing liquid allulose using an enzyme they have developed, and more recently built a factory in Ulsan for producing crystal (powder) allulose. Much easier to handle compared to the liquid type, crystal allulose is suitable for export and can be more readily applied in bakery and other areas that use powdered sugar.
During the event, Samyang also presented their prebiotics products with kestose, the ingredient for indigestible maltodextrin and fructooligosaccharide. Samyang held a tasting corner at their booth with various products such as drinks, jams and cereal bars containing allulose and indigestible maltodextrin, for their potential global clients.
Indigestible maltodextrin is a functional ingredient that can help with bowel movement, prevention of blood sugar spikes after meals, and high triglycerides in the blood. It can be used in beverages, cereal bars, baked goods, fermented milk products and many more. Kestose is one of the key ingredients of fructooligosaccharides and Samyang is currently undergoing a human trial, to have kestose approved as an ingredient for health functional foods.
This year, Samyang built its Ulsan factory exclusively for specialty products such as indigestible maltodextrin and fructooligosaccharides and is aiming to expand the prebiotics markets both domestically and abroad.
A Samyang associate affirmed, "Samyang Corporation is producing a variety of premium sugars and prebiotics using our proprietary enzyme technology, as we aim to enter the global markets. We will improve our brand awareness through various global corroboration and exhibitions, rendering us able to compete with other multinational conglomerates by building global tech centers and strongholds."
IFT FIRST is the single, largest food technology exhibition. It is an annual event organized by the Institute of Food Technologist (IFT) and is attended by over 1,200 companies from 90 countries. The last offline event was held in 2019 in New Orleans, pausing due to the COVID-19 pandemic.