Samyang Explores Global Market Opportunities at IFT FIRST 2023 in Chicago
2023.07.20
- Exhibited at IFT FIRST 2023 held in Chicago from the 17th to 19th
- Highlighted the benefits of specialty ingredients allulose, resistant dextrin, and kestose
- Demonstrated various prototypes with functional ingredients for booth visitors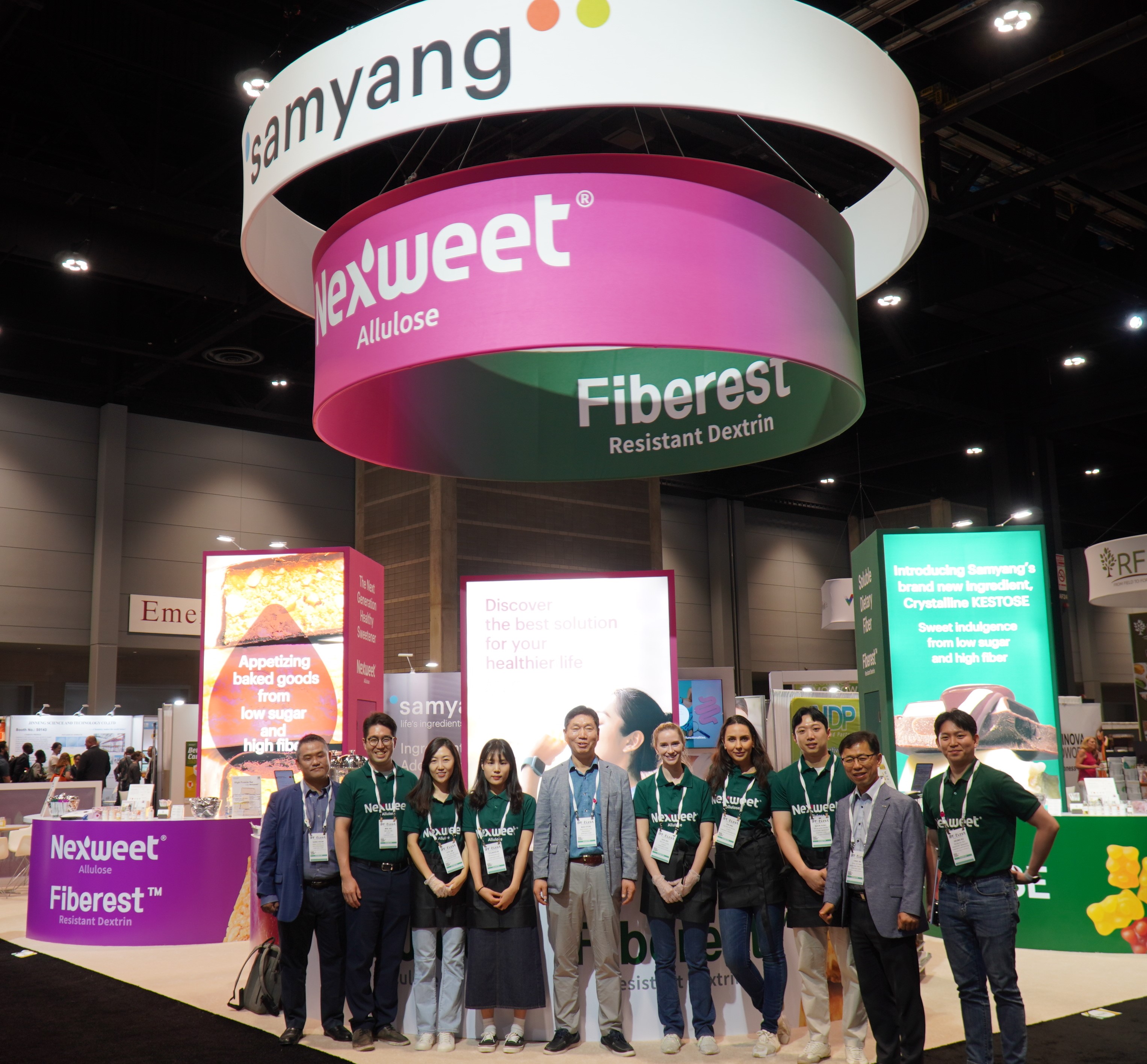 ▲ Pic 1: Samyang CEO Nak-hyeon Choi (fifth from the left) visits the booth to encourage the staff.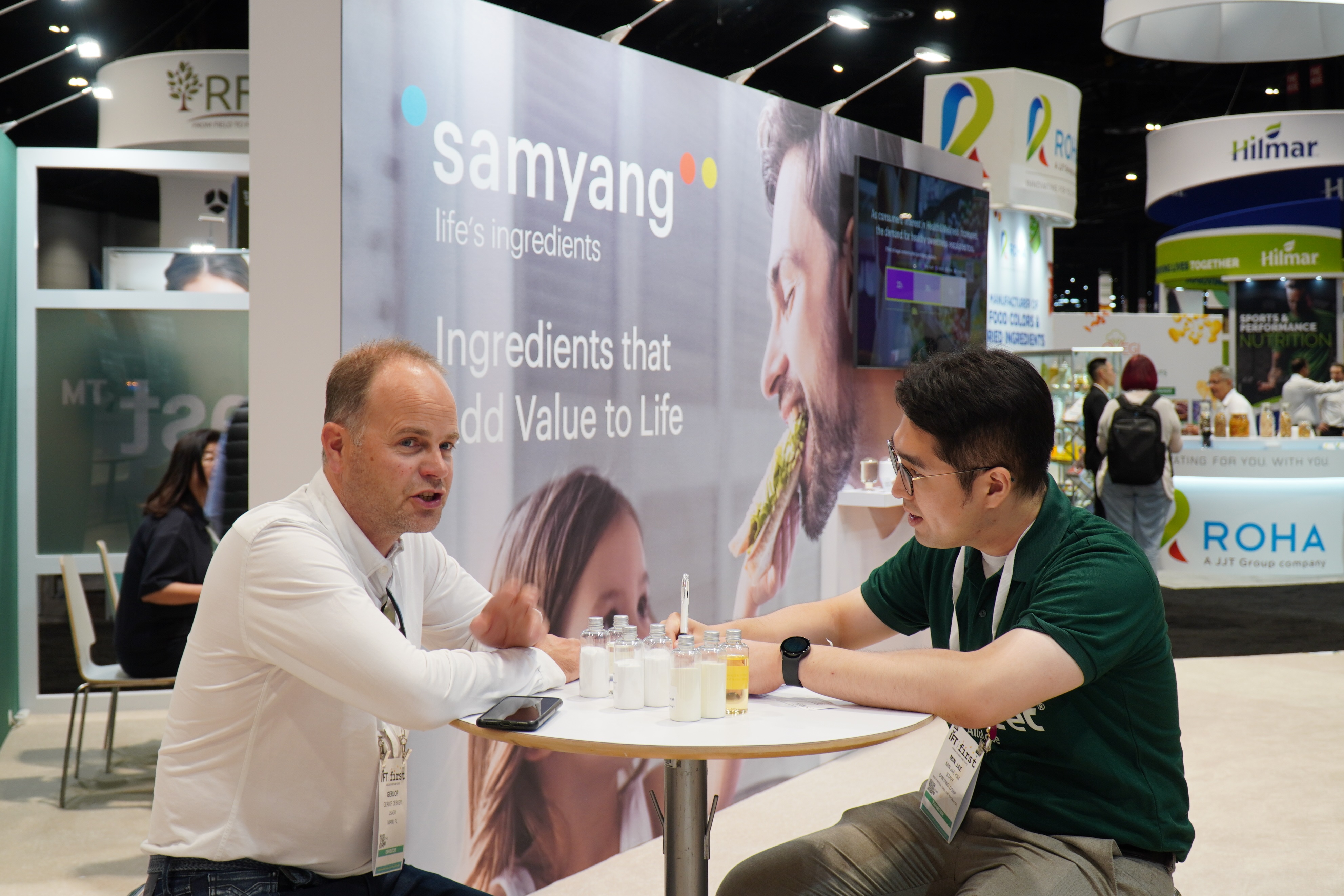 ▲ Pic 2: A staff member at Samyang's booth engages with visitors at IFT FIRST 2023.
Samyang Corporation showcased its highly-functional specialty food ingredients in the global market and demonstrated its exceptional technology.
Samyang (President Choi Nak-hyun), a food and chemical affiliate of the Samyang Group, announced that it participated in the International Food Technology Fair IFT FIRST (Food Improved by Research, Science, and Technology) 2023, which -held in Chicago, from Jul. 17th-19th
The event, hosted annually by the Institute of Food Technologists (IFT), is the world's largest event in the field of food technology, attracting around 1,300 companies from more than 100 countries.
Samyang has been participating in IFT's food expos since 2017, and its booth space this year spanned twice the area of last year's. At this event, Samyang exhibited specialty ingredients, including its main product allulose, to enhance brand recognition and showcase its outstanding Technology. During the exhibition, Samyang's booth attracted around 1,800 visitors.
Samyang is strategically promoting allulose as a core -product of its sugar reduction business in the global market. Allulose, a sweet component found in figs, grapes, and other fruits, provides a sugar-like sweetness with zero calories Samyang has been expanding the global reach of allulose under the brand name Nexweet.
Following Samyang Corporation's success in mass producing liquid-type allulose in 2016 using its self-developed enzyme, Samyang started producing crystalline (powder) allulose in 2022. Crystalline allulose offers more convenience compared to liquid form, making it easier for export and application in a variety of fields, including baking, due to its similarity in form to conventional granular or powdered sugar.
Samyang also exhibited prebiotic ingredients such as resistant dextrin (a.k.a. indigestible maltodextrin) and kestose. Resistant dextrin, a soluble dietary fiber, is a functional food ingredient that can help facilitate bowel movements, -control blood sugar spikes after meals, and improve triglycerides in the blood. Kestose, the only crystalline type of fiber, is a next-generation prebiotic ingredient with the highest dietary fiber contents.
Also, Samyang provided prototypes which includes Samyang's functional ingredient to help visitors better understand the benefits. Using allulose and resistant dextrin, Samyang offered scones with reduced sugar content and increased dietary fiber, as well as kombucha (fermented beverage made by adding beneficial bacteria to green or black tea with sugar). Also provided were samples of chocolate with enhanced dietary fiber content using kestose.
Samyang's CEO, Nak-hyeon Choi, stated, "Last year at the IFT expo, we introduced Nexweet, Samyang's brand of allulose, and embarked on a full-scale entry into the global market." He added, "We will continue to focus our efforts on promoting a variety of functional ingredients in addition to allulose and expanding our presence in overseas markets."
Samyang plans to actively participate in more food-ingredients expos in the latter half of this year, including Health Ingredients Japan in Tokyo and SupplySide West in Las Vegas, to enhance brand recognition and further accelerate the company's global expansion.