Samyang Corporation Joins the US Food Ingredients Fair, "Spurring" to Promote Specialty Materials
2022.11.17
- Showcased a booth for the SupplySide West 2022 during the Food Ingredients North America, Las Vegas
- Introduced specialty ingredients such as "allulose", a next-generation sweetener, and "indigestible maltodextrin", a dietary fiber
- This is the company's second time this year to participate in a food-related fair in US; to take this as an opportunity to expand sales network abroad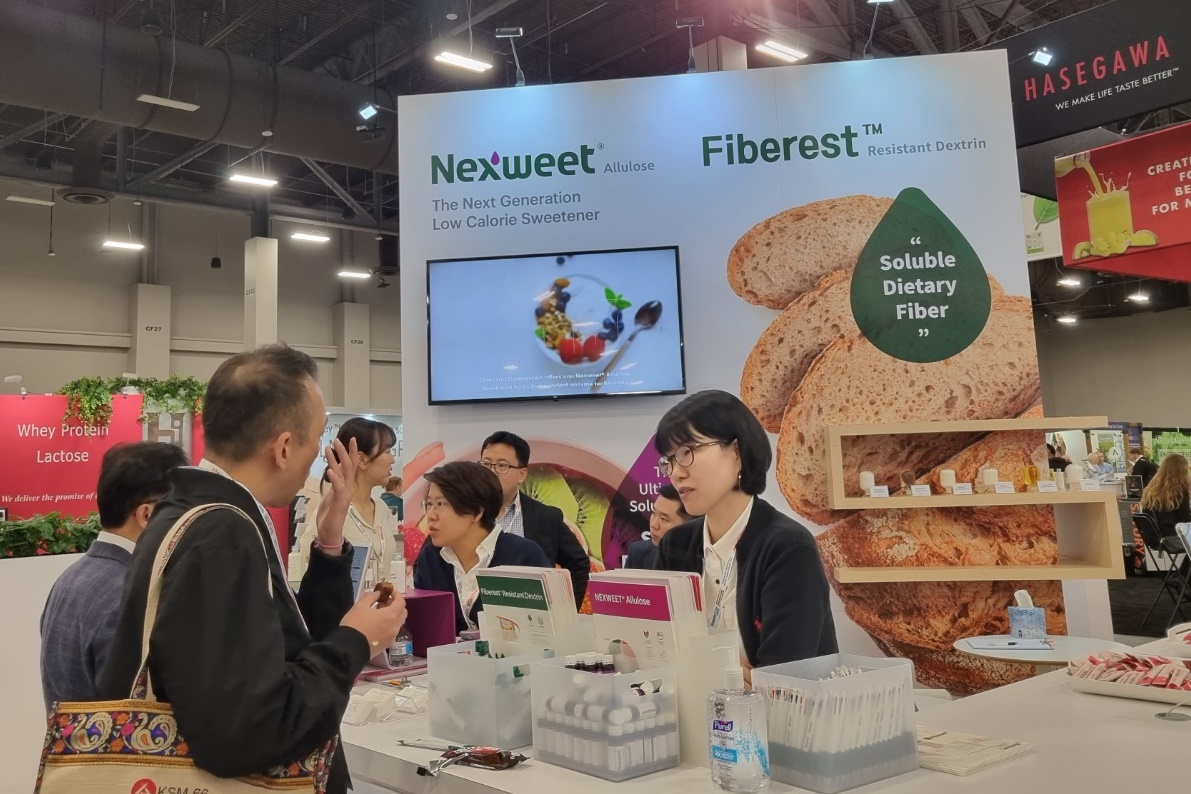 ▲ Samyang Corporation's specialty material booth during the "SupplySide West 2022" held in Mandalay Bay, Las Vegas, US from Nov. 2nd–3rd.

Samyang Corporation is actively targeting the US food ingredients market with high value-added specialty (high-functional) materials.
Samyang Corporation (President Choi Nak-hyun), a food and chemical affiliate of the Samyang Group, announced that it operated a specialty material booth during the "SupplySide West 2022", a food ingredient fair held in Las Vegas, US, from Nov. 2nd–3rd.
Following the International Food Technology Fair held in Chicago last July, Samyang Corporation joined another fair this year to actively promote the company's specialty materials to US food material distributors and explore opportunities to expand its local sales outlets.
At the fair, Samyang Corporation showcased "allulose", the core product of its sugar-reducing material business. Allulose is a low calorie-sugar that exists naturally in fruits like figs and grapes. Because it offers a sweetness comparable to sugar, yet is nearly calorie-free, it is often called the most optimal next-generation sweetener.
Following Samyang Corporation's success in mass producing liquid-type allulose in 2016 using its self-developed enzyme, it recently built a dedicated plant for specialty products in Ulsan, Korea to manufacture crystalline allulose. Last year, the company unveiled the allulose brand "Nexweet", which combines "next" and "sweet" to represent "a healthy sweetener leading the next generation" with a focus on the global market.
Samyang Corporation carried out active promotional activities for not only allulose but also indigestible maltodextrin, a material that can provide functionality in general foods Indigestible maltodextrin, a water-soluble dietary fiber, is a functional ingredient that can aid in facilitating bowel movements, controlling blood sugar spikes after meals, and improving triglycerides in the blood. It can be used in beverages, confectioneries, baked goods, and many more. To date, Samyang Corporation produces powder and liquid-type indigestible maltodextrin under the brand name "Fiberest".
It also revealed "kestose", a class of sugars that belongs to a group of fructooligosaccharides. It is primarily used as an ingredient for functional health foods. Samyang Corporation is undergoing a human trial to have kestose approved as a functional health food ingredient.
Samyang Corporation unveiled ingredient samples and products to which actual materials were applied, such as beverages, protein bars, dairy products, sauces, and jams, according to each category, and displayed them along with tasting samples.
"We held consultations with local food suppliers and promoted Samyang's specialty materials at the fair, which accommodated nearly 17,000 people," said Managing Director Yang Cheol-ho, head of Samyang Foods' Specialty Business PU. "We will actively participate in the overseas food ingredient expos and accelerate our entry into the global market afterward," he added.