Low-Fat Ice Cream with Nexweet® Allulose & FiberestTM Resistant Dextrin
2023.10.13
Low-Fat Ice Cream with Nexweet® Allulose & FiberestTM Resistant Dextrin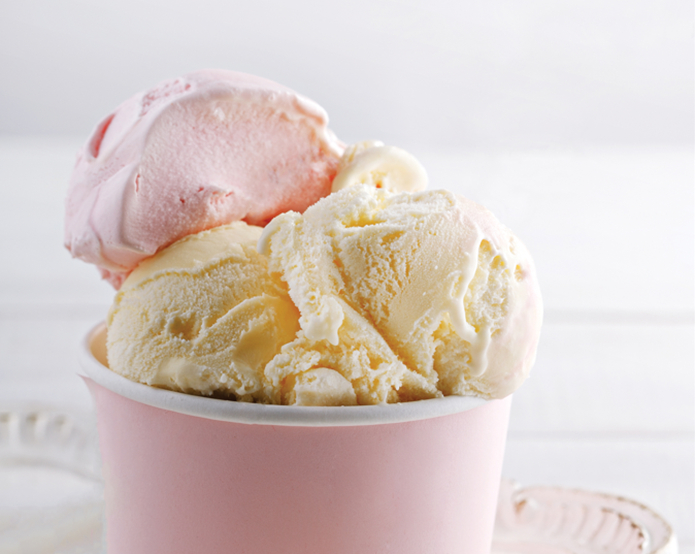 Why You Should Pay Attention to Low-Fat Ice Cream
As the "healthy pleasure" trend spreads, consumers are increasingly seeking foods that satisfy both taste and health requirements. Reflecting this mindset, a new market has emerged with the introduction of ice cream products with reduced-calorie and low-sugar concept, addressing the need for healthier food options. While traditional ice cream typically contains over 1,000 calories per pint (approximately 470mL), reduced-calorie and low-sugar ice creams offer a significantly lower calorie count, ranging from 240 to 330 calories, which is roughly one-third to one-fourth of the calories in typical ice cream.
In Korea, the market for reduced-calorie ice cream began to take shape with the launch of the famous American brand Halo Top, and now there are around ten brands selling such products. This trend is not limited to Korea, as the market for healthier ice cream products claiming reduced sugar and calories and highlighting plant-based ingredients is expected to continue growing in Korea as well as the United States.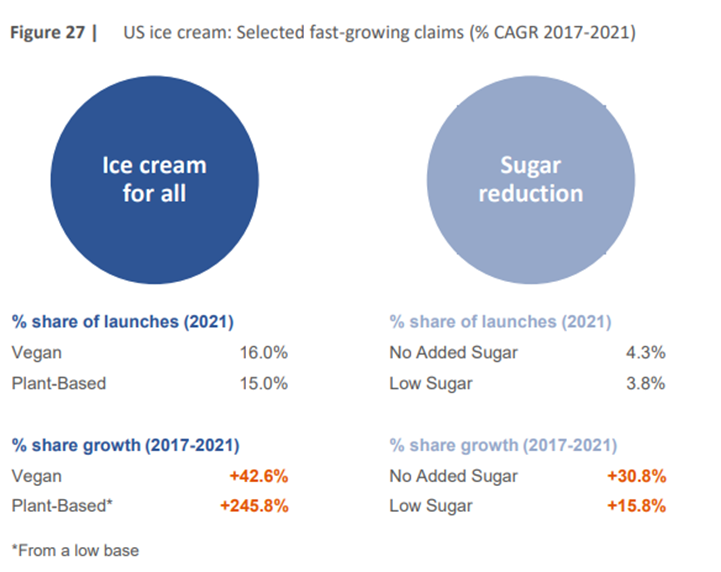 Source: Innova Market Insights 'Dairy & Dairy Alternative Ice Cream in the US'

Considerations When Manufacturing Low-Fat Ice Cream
The primary ingredients of ice cream are milk or cream and sugar. To reduce the calorie content of ice cream, the levels of these two ingredients must be decreased. However, it may lead to various challenges in terms of the ice cream's texture and properties, such as poor overrun (expansion) and rapid melting. Reducing the fat content in ice cream can result in a less creamy texture, alike sherbet with a somewhat crunchy texture. Additionally, the emulsion stability of the mix may also decrease. Lower sugar content obviously decreases the level of sweetness and alters the melting characteristics of the ice cream, so it melts quickly at room temperature. To manufacture low-calorie ice cream successfully, it is essential to select ingredients that fulfill the roles of these two key components as closely as possible and balance the mixture to achieve the desired characteristics.

Samyang's Suggestion:
1. Lower freezing point depression compared to erythritol

A low-calorie alternative to sugar that can improve the melting point is allulose (Nexweet® Allulose 95L) which has a caloric value of 0.4 kcal/g and is not categorized as added sugar. It has a sweetness level of 70 (compared to 100 for sugar), serving as a suitable ingredient for manufacturing low-calorie ice cream. While erythritol, with 0 kcal, is commonly used as a sugar substitute, allulose has a lower impact on the melting point, preventing ice cream from melting too quickly.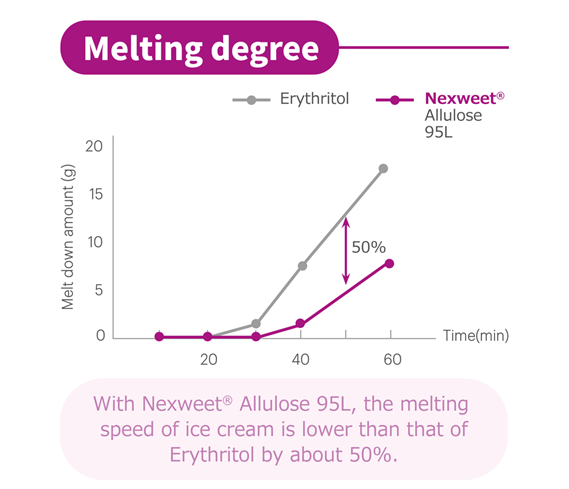 ▲Image 1. Melting degree test of Nexweet® Allulose 95L and Erythritol
2. Fruit or vanilla flavor-boosting effect
Additionally, allulose (Nexweet® Allulose 95L) boosts the intensity of flavors such as cocoa and vanilla. When producing low-sugar or low-calorie ice cream, it is common to use high-intensity sweeteners to enhance sweetness, even in small quantities. However, when used in large quantities, these sweeteners can lead to a bitter taste. By using allulose (Nexweet® Allulose 95L) with such sweeteners, the bitter taste is reduced, performing the ice cream's flavor more appealing.

3. Creamy texture
Because allulose (Nexweet® Allulose 95L) has a melting capacity of 1.2 times compared to that of sugar, ice cream applied by allulose (Nexweet® Allulose 95L) melts faster than conventional ice cream. Therefore, it is necessary to combine with other polymer ingredients such as resistant dextrin (FiberestTM Resistant dextrin HF ) which has a stable emulsification effect and improves the creamy texture, alleviating the coarse taste when decreasing the cream content.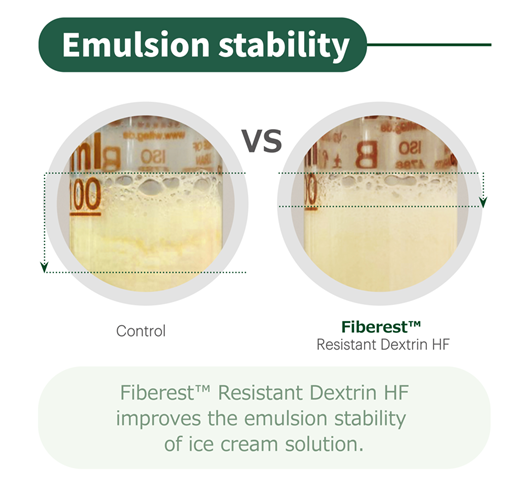 ▲Image 2. Emulsion stability test of Nexweet® Allulose 95L and FiberestTM Resistant dextrin HF

ü
70% reduction in total sugar
ü
60% reduction in calories
ü
Enhanced creamy texture
[Nutrition Facts]